GENEOLOGY RESOURCES
Today In History
On 10/21 in:
1872 - John H. Conyers becomes first Black U S Naval Academy cadet

Helpful Sites to Learn Your History
The sites listed here are included for both your informational and educational assistance.
Our Selected Loved One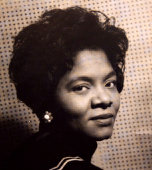 Pauline Hudson Barge
Born:Fri Jul 18, 1924
Selma, AL
Death:Sun Aug 20, 2006
Newport, RI
Wise Words
A child born to a Black mother in a state like Mississippi...has exactly the same rights as a white baby born the the wealthiest person in the United States. It's not true, but I challenge anyone to say it is not a goal worth working for.
Thurgood Marshall