GENEOLOGY RESOURCES
Today In History
On 11/23 in:
1939 - Annie Mae Bullock born in Nutbush, TN. As Tina Turner, she will become major rock-n-roll legend and icon

Helpful Sites to Learn Your History
The sites listed here are included for both your informational and educational assistance.
Our Selected Loved One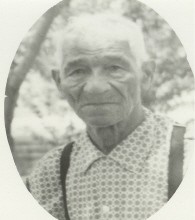 Robert Dancy
Born:Fri May 05, 1882
Panola, AL
Death:Tue Apr 11, 1967
Birmingham, AL
Favorite Saying
I don't remember a favorite saying. However, he loved to talk about baseball, particularly, the Dodgers. Once he told me the story of a scout for a professional team that came to look at one ball player and instead saw and signed Willie Mays.
Wise Words
The future belongs to those who prepare for it today.
Malcolm X