GENEOLOGY RESOURCES
Today In History
On 4/6 in:

Helpful Sites to Learn Your History
The sites listed here are included for both your informational and educational assistance.
Our Selected Loved One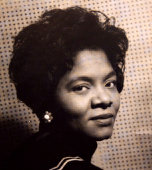 Pauline Hudson Barge
Born:Fri Jul 18, 1924
Selma, AL
Death:Sun Aug 20, 2006
Newport, RI
Wise Words
We should emphasize not Negro History, but the Negro in history. What we need is not a history of selected races or nations, but the history of the world void of national bias, race hate, and religious prejudice.
Carter Woodson