How to Join Our Community
Today In History
On 11/20 in:
1922 - Springarn Award given to Mary B. Talbert, former president of National Association of Colored Women for service to black women and restoration of the Frederick Douglas home
1962 - Robert C. Weaver awarded Springarn Award for his leadership in the movement for open housing


Membership at passedfaces.com is by subscription only, with a one-time fee of $29.99.

Please provide the information requested below. Once your membership has been approved, we will forward, by email, your username and password.
Our Selected Loved One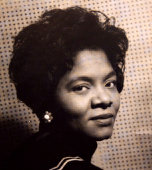 Pauline Hudson Barge
Born:Fri Jul 18, 1924
Selma, AL
Death:Sun Aug 20, 2006
Newport, RI
Wise Words
Fear is a disease that eats away at logic and makes man inhuman
Marian Anderson