SEARCH OUR SITE
Today In History
On 9/28 in:
1895 - National Baptist Convention organized.

Find a Loved One
Enter your search parameters to attempt to locate a match.
Simple Search
Search by first and last name, and city/state where the person was born.
Advanced Search
Our advanced search process is a "Soundex" based search. Enter only the persons last name (or closest spelling) and their place of birth (closest spelling of city).
Our Selected Loved One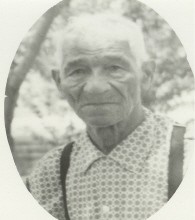 Robert Dancy
Born:Fri May 05, 1882
Panola, AL
Death:Tue Apr 11, 1967
Birmingham, AL
Favorite Saying
I don't remember a favorite saying. However, he loved to talk about baseball, particularly, the Dodgers. Once he told me the story of a scout for a professional team that came to look at one ball player and instead saw and signed Willie Mays.
Wise Words
Black people have always been America's wilderness in search of a promised land
Cornel West